About us
Huntoffice is a digital commerce business operating in the Office Products, Office Interiors and Facilities Supplies marketplace. Much of our success is a result of our strong management team and dedicated staff combined with our use of technology as a driver for efficiency and growth.
Welcome to Huntoffice
Ireland's leading indigenous provider of Office Products, Solutions and Services to the Business and Enterprise sector. Founded in 1999 in the South-West of Ireland by brothers John Hunt and Seamus Hunt, the business has carved out a dominant position in the Irish marketplace and has been actively developing its footprint in a number of vertical markets.
Over 150,000 products
From humble beginnings as a traditional office products dealer, Huntoffice is now the largest online office products platform in Ireland with over 150,000 products and growing. The business has embraced technology as a driver for growth and is now seen as the leading eCommerce player in its respective marketplace. With over 45,000 B2B customers in Ireland, the business has also developed new lines of business in the Facilities Supplies category and also boasts a very successful Office Interiors and Fitout business.
Ireland and the UK
Huntoffice maintains several websites from its bases in Limerick, Dublin, & Cork and employs a dynamic team of content marketers, eCommerce experts and business development specialists. The company continues to develop its infrastructure and business processes with a view to growing its footprint in both Ireland and the UK marketplaces over the coming years.
The Team
The team behind Huntoffice has a wealth of experience across multiple sectors including Retail, FMCG, Technology, Software, Telecoms and Industrial. Founded by Brothers John and Seamus, the company embraced the Internet long before many industry peers and has worked extremely hard to achieve its dominant position in the online marketplace. The founders recognised the need to bring in outside talent and have assembled a strong management team to assist with strategy and ongoing growth of the business.
Community
Huntoffice has office locations in Newcastlewest Co. Limerick, Citywest Business Campus in Co. Dublin and Cleve Business Park, Co. Cork. Our staff and customers are important to us and we are actively engaged in community activities through various sponsorship programmes and other support initiatives.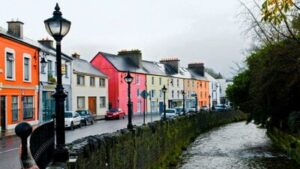 Culture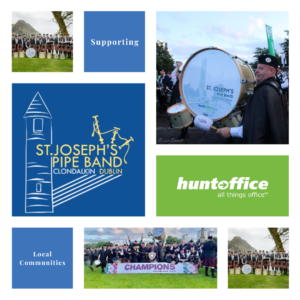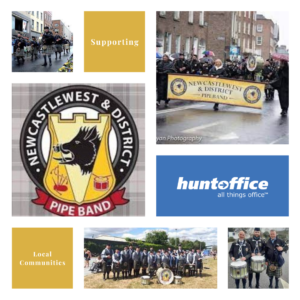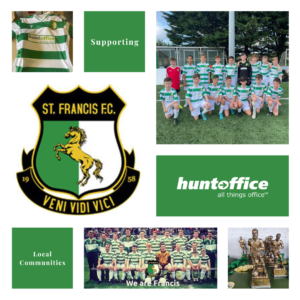 Huntoffice has a long-standing involvement and affiliation with Music and Piping. Many of the Huntoffice.ie team are Pipers and Drummers in various Pipe bands across Ireland. As such Huntoffice are proud sponsors of Newcastlewest & District Pipe Band from Limerick and St. Josephs Pipe Band in Clondalkin, Dublin. Huntoffice.ie is also delighted to support many Sporting Communities across the country including Football, GAA, Rugby and Golf.