P-Touch Cube Hacks: Top 10 Office Labelling Ideas
From chaos to calm: Top 10 office labelling ideas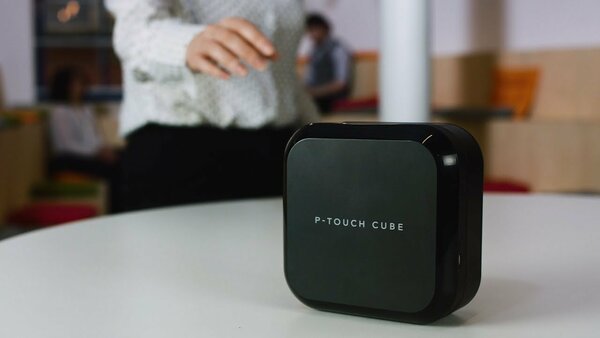 With long to-do lists and looming deadlines, life in an office can be very busy. A day without any problems or glitches is rare, but extremely welcome by every employee.
Technology plays a big part in keeping workers busy as it brings so many elements of our life to our fingertips. The benefits don't stop there. Tech can also help bring order to day-to-day office life.
It's a simple process: Introducing labelling can make the workplace much more efficient, saving you time and reducing stress along the way.
Here are 10 of our top life hacks on how labelling can turn office chaos into calm.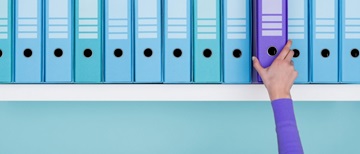 1) Labelling unplugged
Ever unplugged your computer thinking it was something else? Research has found that 32% of us have lost work due to computers being accidentally unplugged1. Prevent this potential office disaster by labelling all plugs in the workplace. It's a move that could save time and prevent arguments.
2) Visitor badges
Say goodbye to unprofessional hand-written visitor books. Now you can streamline operations with a labelling visitor management solution. Such systems impress guests and enable you to pinpoint visitors on site at all times – ideal for security.
3) Important documents in an instant
Save time when looking for that all-important document by labelling files and folders. Provide extra stand-out by labelling private and confidential files with red and black text. As time is money, it's an investment worth making.
4) Safety first
At work, safety labels are crucial and could prevent serious accidents and injuries. Bright and colourful labels can be created to warn people of any dangers or encourage them to wear appropriate safety equipment.
5) Protect your possessions
Did you know that 78 million working hours are lost every year as workers search for stolen items? And that 26% of office disputes are caused by items being stolen?1 Keep the peace and reduce the risk of both deliberate and accidental theft simply by labelling items. This can be anything from staplers and calculators to notebooks and laptop chargers.
6) No cause for alarm
Making it obvious when essential equipment such as fire alarms need replacing is crucial to keeping your employees safe. By simply labelling the equipment with the expiry date it provides a very visible reminder of the deadlines you can't afford to miss.
7) Ease recycling
With more of us becoming conscious of our impact on the environment, labelling devices can be used to identify recycling bins. Now the office staff can see where their plastic, paper and other recyclables need to go without confusion.
8) Labelling food
With food allergies posing a life-threatening risk and dietary preferences ever changing, having clear information labels is essential when providing food to colleagues or clients in the workplace.
9) First class post
Labelling post can make parcels and letters look more uniformed and professional. The extra benefit of this is that labels are more legible than handwritten. This helps to ensure that the mail gets to the right place without delay or ink smudging in the rain. To save time, a template can be created for people sending mail regularly, meaning that standardised labels can printed in just a few clicks.
10) Push or pull?
When walking towards a new door, we all have the same thought – is it push or pull? Labelling your doors will prevent any embarrassment and potential accidents for your visitors. As a result, these labels can help stop any damage to your doors.
For over 30 years, Brother has been passionate about providing go-to labelling solutions for customers in a range of sectors.  The Brother range of labelling devices reflect Brother's business motto "At your side" and act as a personal PA for their customers. Their versatility throughout the office has helped to take many businesses from chaos to calm.
Find out more about the Brother range of Label Printers – http://bit.ly/2HRv2GM
Find out more about the Brother range of printers here – http://bit.ly/2TNY2qe
More about the P Touch Cube
The stylish label printer for use all around the home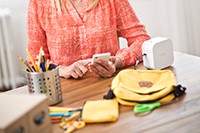 With a compact modern design, the P-touch CUBE fits your home perfectly, whether you use it in the kitchen, study, home office, garage, garden shed, for personalising gifts or labelling your children's school clothes and school equipment.
Designed for Android and Apple devices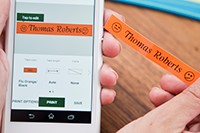 The free "P-touch Design&Print" app is available from your device's app store. It offers many ideas for labelling around the home, and its clean look and feel make it easy to create the labels you need.  Plus all the family can install the app to their devices and use whenever they require a label.
Why not try the app now? Just search "Design&Print" in your device's app store!
Easy set-up using Bluetooth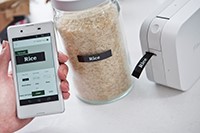 No more complicated set-up using your home network or Wi-Fi connection. Simply search for your P-touch CUBE printer in the app, and tap to connect – it takes just a few seconds to set-up.
Wide range of uses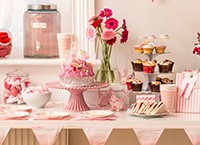 Label storage containers and jars, shelves, plugs, mobile phone or tablet chargers, file folders, shoe boxes, children's clothing, school equipment and toy boxes. Use in the garden, garage and shed to label plant sticks, storage bins and tools. Also great for gifts, entertaining and parties.
Print in many colours and sizes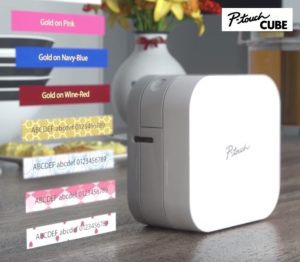 A wide range of adhesive label colours and sizes, patterned tapes and fabric ribbons for gift wrapping, and iron-on fabric labels for marking names in school uniforms and workwear are available, ensuring that the P-touch CUBE will be an invaluable part of your home organisation.
P-touch laminated labels – tested to extreme
Brother TZe laminated labels are incredibly durable and are designed and tested to withstand extremes in temperature, sunlight, moisture, abrasion and chemicals. This means they can be exposed to sunlight in the garden, used to label food containers in your freezer, safely used on food containers in the dishwasher, used in a steamy bathroom environment, and can take the knocks when used to identify your holiday luggage and suitcases!
For more information on the Brother PT-P300BT Label Printer – P-Touch Cube Labeller – visit http://bit.ly/2GfUfdg
For the full range of Brother Products visit https://www.huntoffice.ie/