Ergonomic Workplace Essentials | Monitor Arms
The Expanding World of Monitor Arms
With many of us spending more and more time in the office and on our computers, both employers and staff alike are becoming more in tune with creating a healthier and ergonomic working environment. There are several new must have office essentials that increase working life comfort and efficiency. Monitor Arms are one such product. Essentially Monitor Arms allow easy use of multiple screens, they are all adjustable enabling the user to position their screen(s) at the correct height and distance to work comfortably, while diminishing neck, eye and back strain.
Monitor arms are used for single screens, dual monitors, triple monitors and can be set for as many as eight monitors, each positioned on independent arms which can be instantly set and adjusted providing flexible, height adjustment properties for maximum productivity and ergonomic well-being. The most popular monitor arms are Dual to hold two screens and the user benefits are plentiful.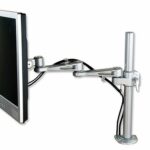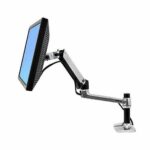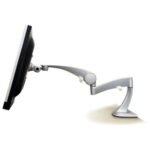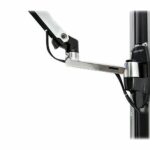 Benefits for using Dual Monitor Arms
Dual Monitors have been proven to improve efficiency.
Save time by using multiple applications at once—eliminate toggling back and forth between documents and programs.
Free up valuable desk space, which is really helpful and improves productivity.
Increased collaboration and communication, such as Skype where can video call and continue to view and reference applications while you chat.
Simultaneously lift LCD screens to proper height for unsurpassed ergonomic comfort.
Sharing applications is easier, simply drag images or files to another screen.
Particularly useful for those carrying out research and referencing work.
After initial configuration dual monitors are easy to use, no extra software is required and the same controls are used as with a single monitor.
Cable Management Features allows you to keep desk and space tidy and visually clear.
Monitor Arms are easy to install and set-up.
Upgrade LCD monitors and TVs with improved ergonomic adjustment.
Patented CF motion technology provides premium ease-of-use display adjustment.
Push monitors out of the way when not in use.
Flexibility in how you work, freedom to adjust and rotate the angle of your LCD Monitor including portrait/landscape viewing.
All Huntoffice Monitor Arms come with a 3 or 5 Year Manufacturer's Warranty, giving you peace of mind.
Ergonomic Benefits of Monitor Arms | Ergonomic well-being is thankfully now a key factor in working life, monitor arms have many ergonomic properties.
Easily place your screen at the appropriate height, angle and distance to promote good posture and eliminate the need to strain. Continuous staining can take its toll on the body over time, causing shoulder, neck, eye and back problems. You can greatly decrease these health problems by setting up an ergonomic environment (other great ergonomic office essentials are adjustable chairs, sit/stand height adjustable desks, document holders and foot-rests)
A comfortable working atmosphere helps boost your productivity.
The flexibility that Monitor Arms provides lends well to smaller work-spaces. They can be desk, wall or rail mounted, giving you more room to work.
Increased opportunity to organise and segregate work due to importance or priority.
An Ergonomic environment has been shown to make employees feel more valued and considered in the workplace and therefore happier.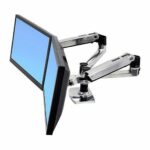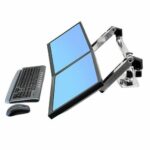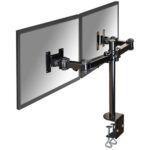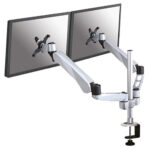 Tips when choosing a Monitor Arm System
There are considerations to take into account when choosing which Monitor Arm System will suit your work goals and environment.
How many monitors? This is an important question you need to answer early in the process! Consider if you think you will use multiple monitors in equal measure?
Consider the space you work in and how much desk/working space you need and the depth of your desk.
When you have selected the number of screens you require, you can move on to the next selection factor.
Weight Capacity – make sure the system you choose can hold the weight of your current LCD Monitor.
Screen Size Capacity – Check for the maximum screen size of the monitor system and make sure it accommodates your screen size.
Industry Interface Options – It's important to check that your monitor is VESA (Video Electronics Standards Association) compliant. This means the back of your monitor features a standard hole pattern used for mounting purposes and ease of attachment. A VESA hole pattern is measured both horizontally and vertically between mounting hole.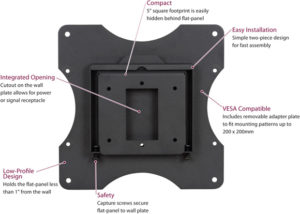 Installation/Mount System – Do you require a desk / wall or rail mounting system?
Tilt and Swivel Technology – look at the specifications to make sure the tilt, swivel and angle capacities meet your individual working requirements.
Warranty – most monitor arms systems come with a Manufacturer's Warranty, you may want to check this and the term of the warranty cover.
Cable Management System – check the cable management features, according to your individual requirements.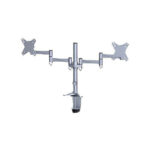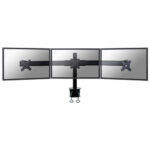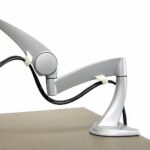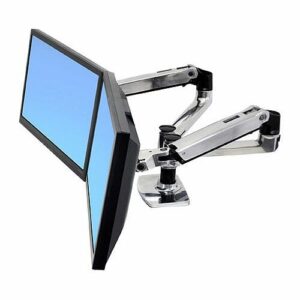 In essence Monitor Arm systems are available in a wide range to facilitate a variety of LCD Monitors and Laptops. They vary in style and finish from Chrome to Stylish Black. Monitor Arms are one of our Office Essentials and work equally well with a standard desk and Sit/Stand Height Adjustable Desk which offers even greater ergonomic comfort and flexibility. Whichever system you choose remember to keep healthy at work, move around and stretch frequently.
Popular Monitor Arm Systems
We have selected 8 of our most popular Monitor Arm Systems which includes Single, Dual and Triple Screen. Each model has full specifications and capacities listed. If you need any assistance, contact a member of Huntoffice Sales Team on 01 623 0623.
Visit www.huntoffice.ie for over 100,000 Office Products and www.huntoffice.com for more office tips, advice and news.
For all your office essentials, think #allthingsoffice.